I have an unusual Randall that I picked up last year from Ron Mathews, that he described as a Hunter, WW2 vintage. Photos by Ron Mathews.
Note the forward of the hilt dip on the top spine, and the french choil. Also the hilt is canted forward, with the sheath mouth angle cut, reminiscent of Bo's early pre war knives.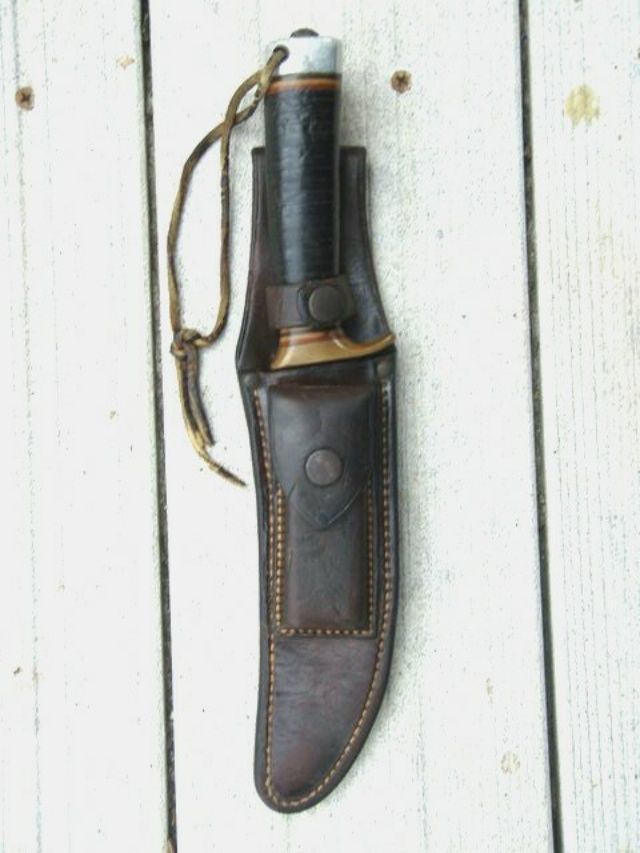 It is an odd ball of sorts. The previous owner before Ron described it as a little bear Bowie as shown in this photo below.

Judging the similarities, its easy to draw that conclusion. The little bear Bowie has a sharpened top clip, whereas mine does not.
But when you look at this early knife, it has a brass nut, a blade flat, and comes with an early riveted Heiser sheath. So it fits more as a Hunter in the WW2 era.
We know that the model 12 little bear wasn't introduced till the late '60's. There have only been 3 of these early "Hunters" to surface, that we know of. 2 years ago, one surfaced at blade with the top spine dip just forward the hilt, but if differed. It had a short choil I believe, whereas mine has a french choil.
Does anyone have any opinions or knowledge of these oddballs? Ron, in another thread a while back posted this knife and expressed his knowledge about it. Perhaps someone is in our group now who has owned one or knows more about it.
More than likely, as Ron described, its an early Hunter.
Any offerings would be appreciated, and if you have an odd ball Randall that can only be speculated about, post a picture of it and let's discuss it.
Regards, Sam