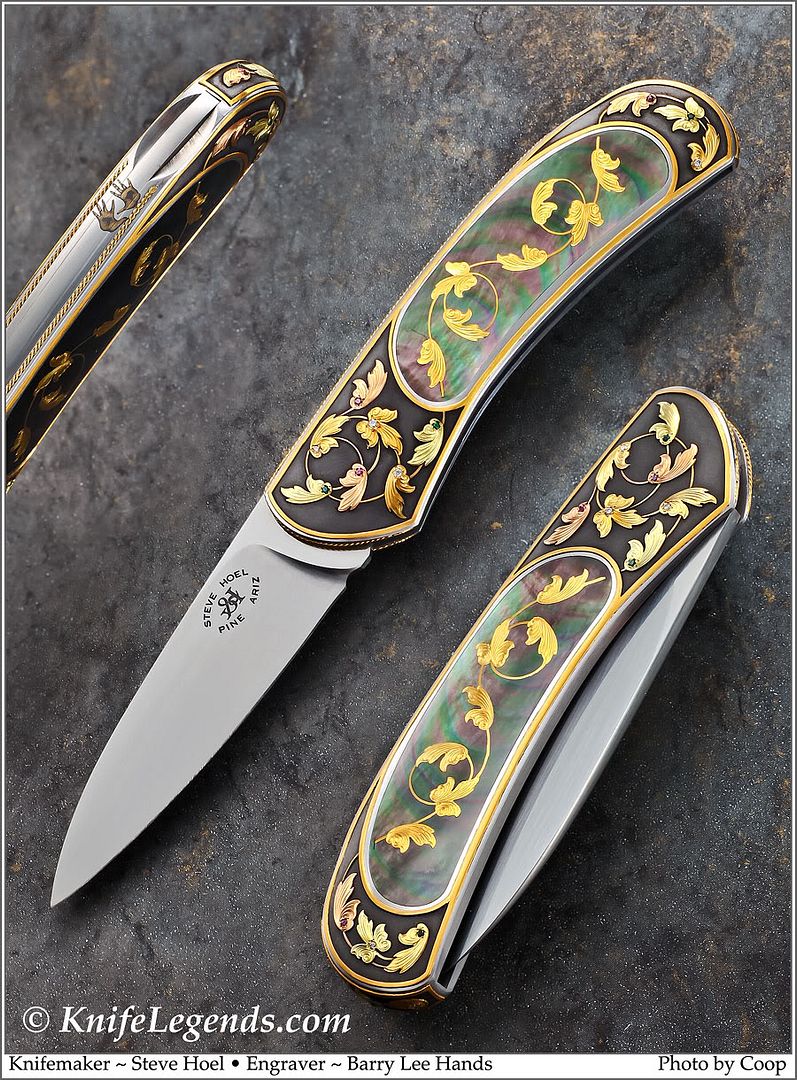 Blade Length: 2 1/4 inches Overall Length: 5 1/2 inches
Closed Length: 3 1/4 inches
Blade Steel: ATS-34
Bolster/Guard: 416 Stainless Steel
Handle Material: Presentation Grade Black-lip Pearl
Comments: Here is an exceptional and extremely rare example of the Art knife by inter-frame master Steve Hoel and Master Gun Engraver Barry Lee Hands.
This Hoel Model I is beautifully embellished with generous amounts of 22 K yellow, 22k pink and 18 k green gold leaves and stems on top of Barry's trademark "Black Satin" background.
These leaves are decorated with twenty precious stones including pink saphires, green topaz and white diamonds which accent the vivid pink and green hues of the stunning black lip pearl inlay,
The design continues onto the pearl in 24k gold with Barry's original "Gilded Pearl" technique and all the elements are surrounded by generous raised 24k gold borders. There are even three gold leaves set with three more precious stones surrounded by raised gold borders on the butt of the rear bolsters!
To top it all off, around the outside edge of the spine and front bolsters is a twisted 22k yellow gold rope border accent with Barry's "Two Hands" Signature logo on the spring in burnished gold.
As with all of Steve Hoel?s masterpieces the fit and finish is flawless and the knife opens and closes with astonishing smoothness. Barry's gold work and stone setting is of the highest quality and rarity - this is his very latest work.