Advanced Damascus Patterning (DVD & Interactive CD)
---
Mastersmith JD Smith has created this exceptional tutorial on the art of Damascus steel. He has taken great care to produce the very best tutorial complete with embedded movies of him at work in the shop forging a large variety of patterns including radials, firestorm, explosion and many others. This is not some shaky hand-held camcorder job filmed in a dark smithy somewhere, but a state of the art multi-media CD and DVD production complete with the latest computer tech and high quality graphic design!

This two-disk set includes a step-by-step video of the creation of basic and advanced pattern-welded Damascus as well as an interactive CD containing charts, film clips and illustrations detailing the making of advanced Damascus patterns.
Requires a 450 MHZ Pentium II or higher and 64MB free Ram. Compatible with Windows 98/2000/ME/XP operating systems.

Price is $105 shipped in the US.
__________________
A knife is no More Than an Iron Tooth! Visit me at the Chesapeake show Dec 9th.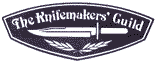 Member of the Knifemakers Guild!
Visit my webpage at
www.gedraitisknives.com